It's time to talk recreation and active living in 2019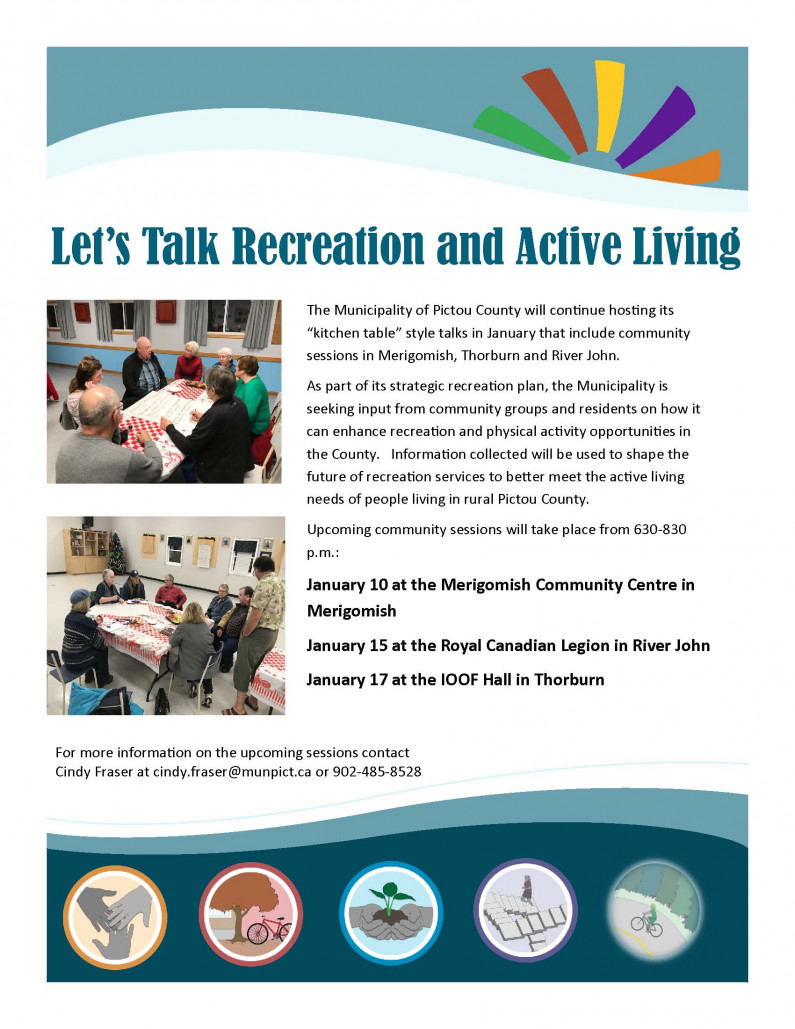 The Municipality of Pictou County will continue hosting its "kitchen table" style talks in January that include community sessions in Merigomish, Thorburn and River John.
As part of its strategic recreation plan, the Municipality is seeking input from community groups and residents on how it can enhance recreation and physical activity opportunities in the County.   Information collected will be used to shape the future of recreation services to better meet the active living needs of people living in rural Pictou County.
Upcoming community sessions will take place from 6:30-8:30 p.m.:
January 10 at the Merigomish Community Centre in Merigomish
January 15 at the Royal Canadian Legion in River John
January 17 at the IOOF Hall in Thorburn
Municipal and Council representatives will be in attendance as well as Frank Gallant of Peak Experience Consulting who has been contracted to facilitate the development of the strategic recreation plan for the Municipality of Pictou County.  
In December, "kitchen table" chats were held in Scotsburn, Alma, Eureka and Little Harbour with opinions voiced from all ages and it is important everyone has input on how they can be more active in rural Pictou County.
Points taken from participants who attended these sessions that were held can now be viewed on https://www.peak.ca/pictou-recreation.  
For more information on the upcoming sessions contact Cindy Fraser at cindy.fraser@munpict.ca or 902-485-8528 or Sueann Musick at sueann.musick@munpict.ca or 902-485-2238.