Pride Flag Raised at County Office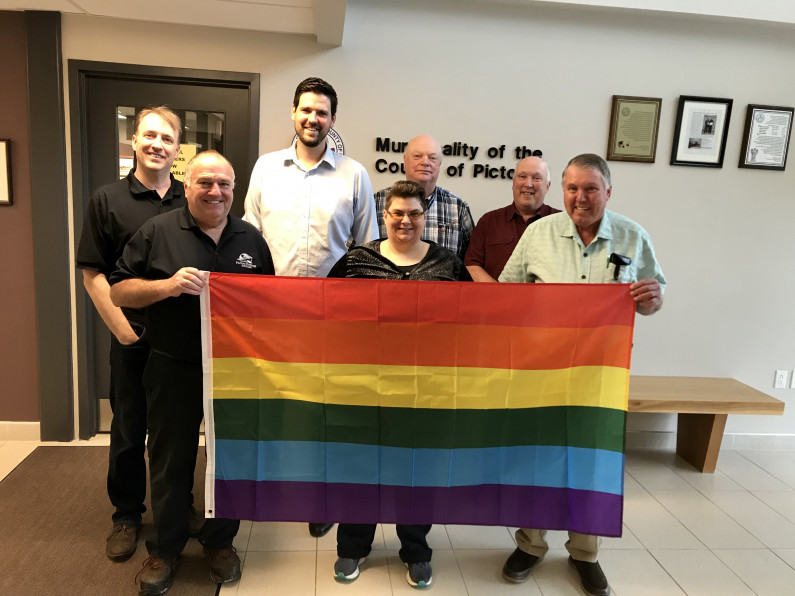 Here, from the front, left: Deputy Warden Wayne Murray, Joy Polley of the PC Rainbow Community and Warden Robert Parker. Back, left: MOPC CAO Brian Cullen, Central Nova MP Sean Fraser, County Coun. Peter Boyles and County Coun. David Parker.
The Municipality of Pictou County hosted a Pride Flag raising Friday at its Administration Building in honour of Pictou County Pride Week being celebrated from July 1-7, 2019. 
The event also marked the 50th Anniversary of the decriminalization of homosexuality in Canada. 
County Warden Robert Parker read a proclamation acknowledging Pride Week and expressed how pleased he was to have the Pride flag flying in front of the County building. 
"It is hard to believe 50 years ago people were thrown in jail and criminalized for homosexuality. It just seems we are so far away from that, but we know we still have a long way to go," said Warden Parker. "Every time we make steps forward like raising the flag here, it sends a message to everyone in the County that we are an accepting society and we want to accept all people of sexual orientation, race or religion. We need to accept everyone."
There is a long list of events planned for Pride Week in Pictou County. They include:
Monday, July 1: 
10 a.m. Canada Day Parade, Westville. Walk with us in the Canada Day Parade.
Tuesday, July 2:
1- 2 p.m.: Drag Queen Story Hour at Dream Candy. Most children naturally explore gender identity and norms through imaginative play. This program helps children explore and embrace gender diversity in themselves and others. 
4- 6 p.m. Ally Workshop at New Glasgow Library. Join us as we explore how we can use our privilege to support marginalized groups. 
6 p.m. Family Bowling at the Heather Bowling Lanes. Free of Charge.
Wednesday, July 3:
1- 3 p.m. Parent and Child Drop in at the New Glasgow Library. A safe and welcoming space for LGBTQ families. Enjoy a variety of activities together. Button making art and colouring games. 
4-6 p.m. Big Brothers Big Sisters Barbecue at 323 MacGregor Street, New Glasgow. Free of Charge.
Thursday, July 4:
1- 3 p.m. Tabletop Games at New Glasgow Library for Youth 12+. Try out a new game or bring your own. Tabletop role playing, board games and card games. 
4-6 p.m. Understanding Gender – New Glasgow Library. Understanding Gender and Identity Expression based on thegenderbook.com. This workshop challenges how we perceive gender and seeks to explore our biases.
Friday, July 5:
1- 3p.m. LGBTQ and Religion at the New Glasgow Library. Viewing of Cure for Love followed by discussion. Cure for Love is a full-length documentary about a controversial evangelical movement that purports to convert gay people into heterosexuals. 
8 p.m. – 1 a.m. – Pride and Joy Dance Party (19+) $2 at Shaun, 135 Provost Street, New Glasgow. Advance tickets by calling 902-921-3832 or 902-921-0400.
Saturday, July 6:
1-3 p.m. Solo, New Glasgow Library. Viewing Solo followed by discussion. Siddiqi struggles against social and the disapproval of his conservative Pakistani family as he explores his sexuality and his gender identity. 
3-5 p.m. Sharing our stories – New Glasgow Library. A safe place to share poetry and prose, your own and or a favourite selection that speaks to you. 
6-9 p.m. Masquerade Ball – Westville Legion, 2066 Spring Garden Road. $15. Youth 12+. An all ages event with mocktails and live entertainment. DJ Wayne Watters will get your masked groove on. Dress up and get down. Youth will be supervised.
Sunday, July 7:
11 a.m. - Elder Café Brunch at Shaun, 135 Provost Street, New Glasgow. Free event. 
3-7 p.m. Queercon at New Glasgow Square. Donations accepted. Workshops, cosplay and vendor displays. Come celebrate Pride together.